Posted by: rob balsamo Sep 23 2008, 01:40 PM
Latest released scene from "9/11: ATTACK ON THE PENTAGON".

William Middleton, an Arlington National Cemetary worker describes a flight path very different than the one required to cause the physical damage at the Pentagon. 3D Animation reconstruction takes the viewer to Arlington on Sept 11, 2001 and puts you in the eyes of the witnesses to decide for yourself.

For full set of witness point of view, and for full high quality film on DVD, please visit http://pilotsfor911truth.org.




Dont forget to visit Youtube and rate this video.
http://www.youtube.com/watch?v=giX1a1qnL_w

Thank you.

Posted by: Bruce Sinclair Sep 23 2008, 08:50 PM
Way to go Rob! I voted for this clip. Great work!

Posted by: Craig Ranke CIT Sep 23 2008, 09:33 PM
Right on man.

I put it on our front page.

I'll make a good Middleton thread tonight and spread it around.

Posted by: KP50 Sep 23 2008, 09:45 PM
Good work Rob, I voted it up.

Important point made - multiple witnesses are describing seeing a plane that they would have had no sight of with the official flightpath.

Posted by: UnderTow Sep 23 2008, 11:30 PM
Never fear, there will always be people who believe 2+2=5 no matter what you show them.

Outstanding job Rob /salute
Posted by: Craig Ranke CIT Sep 24 2008, 02:03 AM
The thread:


William Middleton Sr - North Side Approach Witness
The Ultimate Validation
Arlington National Cemetery worker of 39 years William Middleton Sr. is a fairly well known previously published witness whose account has been used to support the official story.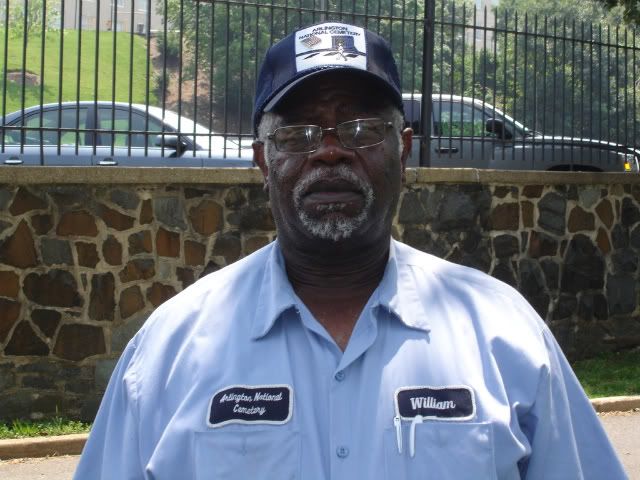 He was running the cemetery street sweeper when he saw the plane. An archive of the most famous article from the Pittsburgh Post-Gazette with his original account can be read http://archive.southcoasttoday.com/daily/12-01/12-20-01/a02wn018.htm.
Of course there was no way to tell his location or where he saw the plane from that article or any other that has been published.
He was interviewed by the Center for Military History but his official account has yet to be released.
Here he is making a right banking gesture while describing his account to them within the first weeks of the attack: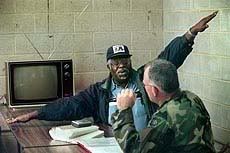 CIT's exclusive on-site interview with him nails down all the critical details about his exact placement of the plane. Billy Middleton's passionate account turned out to be the ultimate validation/corroboration regarding the north side approach as perfectly described by his colleagues over at the cemetery maintenance buildings just east of him and of course all the witnesses at the former CITGO station.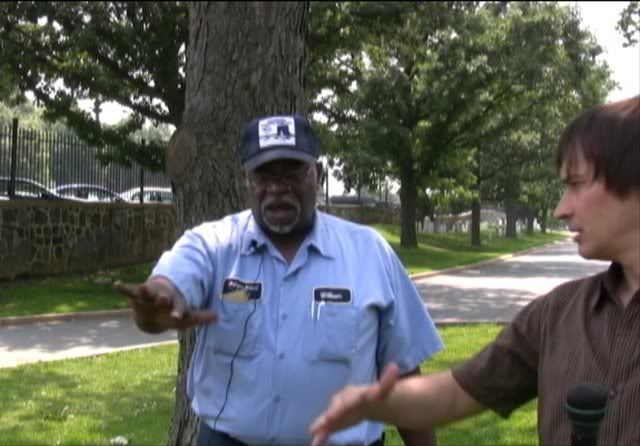 There are many critical points regarding his account and all are outlined in detail along with his entire interview towards the end of Part 1 of our latest presentation http://www.thepentacon.com/northsideflyover.htm.
But probably the most important point is the fact that Mr. Middleton would have only been able to see the tail of the plane for about one second or so if the official flight path was true yet this is nothing like what he describes.
He saw the plane approach from the Sheraton and over the Navy Annex and feels he saw it for a good 10 to 15 seconds. This relatively slow approach corroborates similar claims from aviator Terry Morin who was at the Navy Annex directly across from him, as well as Air Traffic Controller in the Pentagon heliport tower, Sean Boger.
In addition to exposing the http://video.google.com/videoplay?docid=5732289044586758033&hl=en of the official flight path, Pilots for 9/11 Truth's new release http://pilotsfor911truth.org/store.html contains full scale animations contrasting the difference in point of view between the north and south side approach for all the critical witness accounts including William Middleton Sr.
Check out this 3 minute excerpt detailing how there is no way Billy Middleton could be mistaken regarding his critical north side account.
http://www.youtube.com/watch?v=giX1a1qnL_w
Posted by: georgie101 Sep 24 2008, 07:34 AM
Excellent work. Really like the way you have put CIT's interview with the animation. Clearly showing how impossible the south approach is.
Posted by: GroundPounder Sep 24 2008, 10:03 AM
That rates a SWEET!!! (note triple exclamation points which are almost unheard of
)

Posted by: rob balsamo Sep 24 2008, 02:44 PM
Thanks all, especially you Craig for all the hard work you're putting into this spreading the word...

Posted by: SlackerSlayer Nov 8 2008, 11:15 AM
The plane the FDR data came from went over the pentagon, as a distraction from the missile that came in from the damage indicated direction to the south.

The latest videos about that flight from pilots for truth are excellente!
I just finished up "9/11: ATTACK ON THE PENTAGON - Official Release", GREAT JOB!!!

Posted by: Craig Ranke CIT Dec 7 2008, 12:06 AM
QUOTE (SlackerSlayer @ Nov 8 2008, 03:15 PM)
The plane the FDR data came from went over the pentagon, as a distraction from the missile that came in from the damage indicated direction to the south.
For the record there is no evidence for a missile at all and the evidence proves that the FDR did NOT come from the flyover jet.
P4T have demonstrated how the FDR is irreconcilable with the physical damage, but CIT have shown how it is also irreconcilable with the eyewitnesses, so the only logical conclusion is that the 2006 NTSB data is fraudulent.