Posted by: André Oct 17 2010, 12:01 AM
Osama bin Laden narrowly eluded capture by an elite Special Forces unit led by Wile E. Coyote, according to an exclusive TV Guide story by investigative reporter Clark Kent.

Agent Coyote used an Acme jetpack to catch up to the speedy bin Laden on a rock-strewn dirt road in Afghanistan, but the mission was aborted when the relentless Coyote accidentally flattened himself with a 20-ton anvil meant to crush the elusive terrorist.

Pentagon sources confirm that Mr. Coyote is one of several animated agents who have volunteered to help fight for truth, justice and the American way.

Acting on sensitive intelligence developed by Beavis and Butt-head, U.S. ground forces led by Bugs Bunny and Speed Racer penetrated a suspected al Qaida compound with air support from Woody Woodpecker and Snoopy (aka the Red Baron). Popeye reportedly punched one terrorist in the face so hard that his neck stretched approximately 20 feet before his head snapped and wobbled back into place.

To help defuse tensions in the strife-torn Middle East, Defense Secretary Donald Rumsfeld reportedly is grooming a covert unit led by Scooby-Doo, Mr. Magoo and Winnie the Pooh.

"America's arsenal of superheroes is unmatched by any nation in the world," said Rumsfeld, noting that Superman, Wonder Woman and Fat Albert stand ready for deployment to trouble spots around the globe. Rumsfeld also announced the creation of a new Internet surveillance task force headed by Mighty Mouse.

Rumsfeld said the cartoon fighters will help make the war on terror more popular among the nation's children. However, he again deflected questions about alleged financial wrongdoing by the defense contractor, Acme.

http://www.humorgazette.com/wilecoyote.htm

Posted by: albertchampion Oct 17 2010, 01:29 AM
to catch usama, you would have to be an undertaker. died in 2000.

Posted by: André Oct 17 2010, 12:44 PM
Nobody dies in "cartoon land", especially not Bin Laden, because the show must go on. This humour is really not that funny but it does reflect my cynical view of the medias and society in general, as time goes by the more I feel disconnected from it all.

Posted by: paranoia Oct 19 2010, 03:25 AM
"bin-laden-living-comfortably-in-pakistan" - according to some dude from NATO:

http://news.yahoo.com/s/yblog_upshot/20101018/us_yblog_upshot/nato-official-bin-laden-living-comfortably-in-pakistan

http://edition.cnn.com/2010/WORLD/asiapcf/10/18/afghanistan.bin.laden/index.html

Posted by: paranoia Oct 20 2010, 03:31 AM
watch these 3 minutes of this episode -

from 14:40 to 15:43

and

from 19:35 to end

http://www.southparkstudios.com/full-episodes/s14e09-its-a-jersey-thing



caps: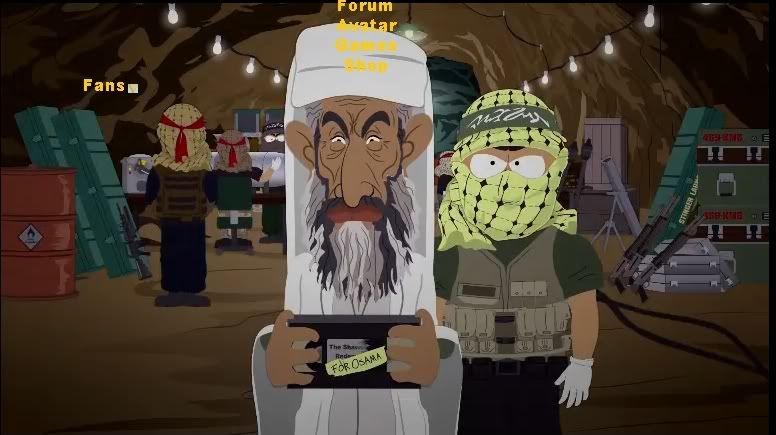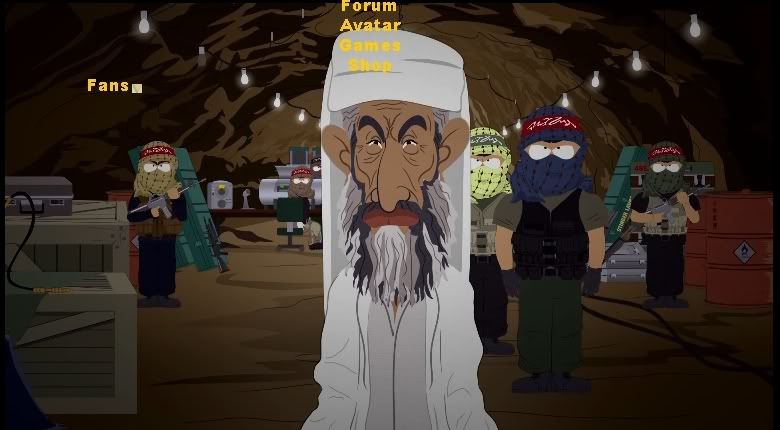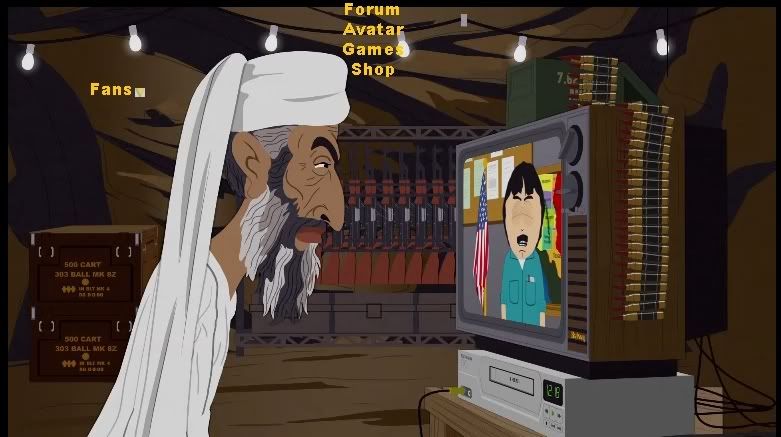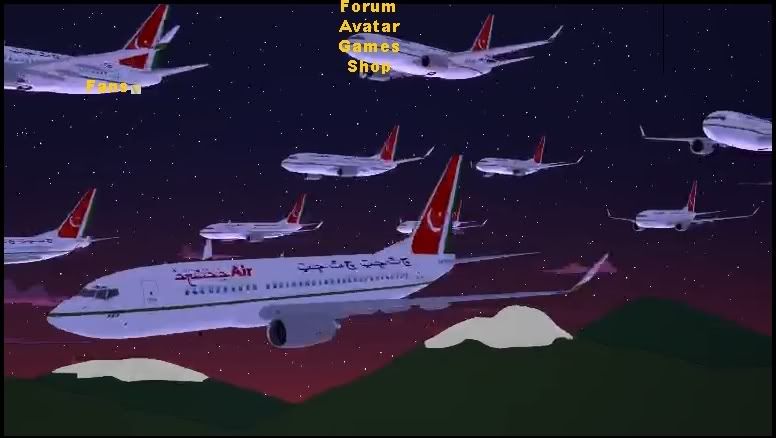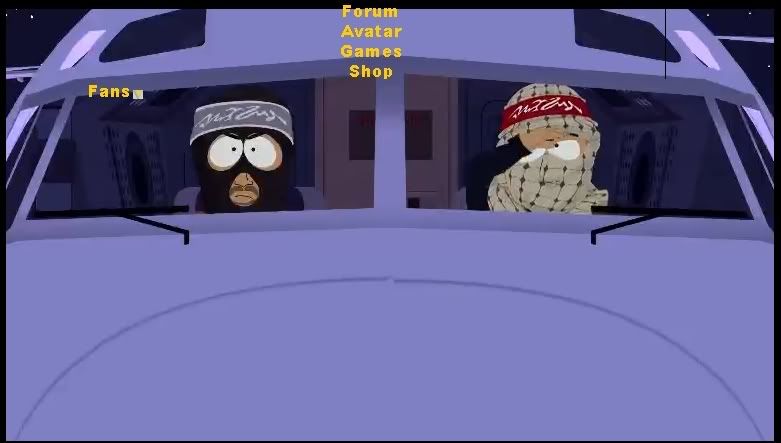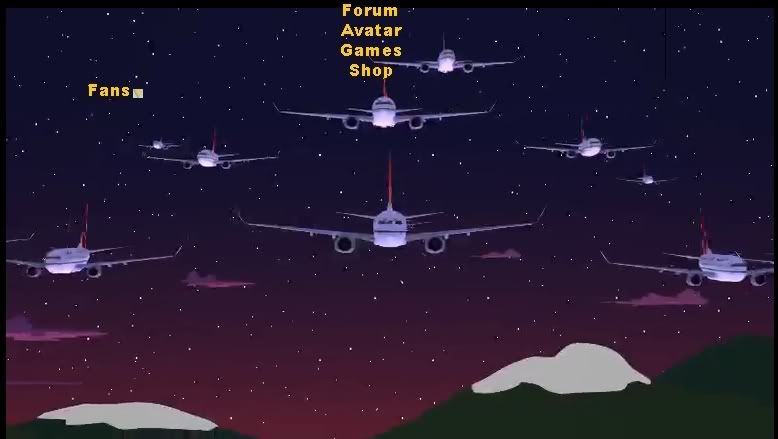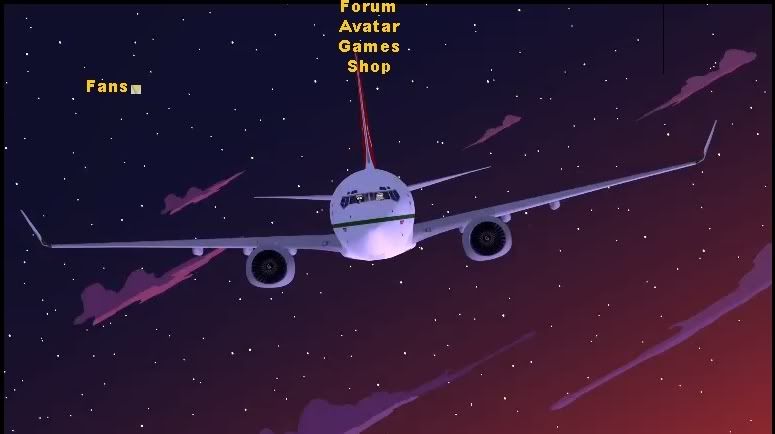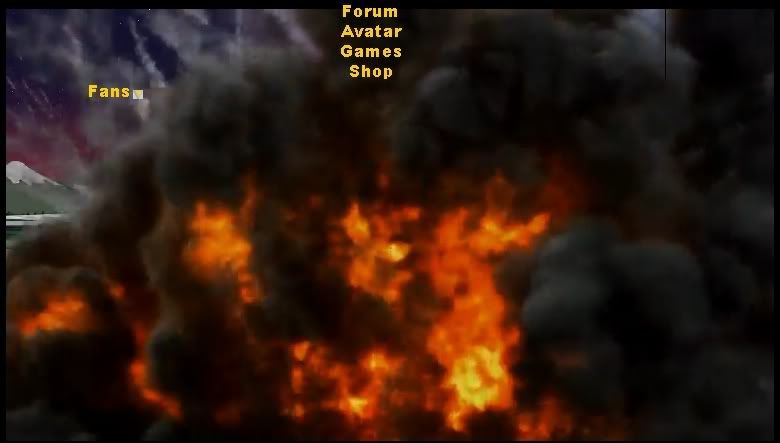 continued on next post...

Posted by: Devilsadvocate Oct 30 2010, 12:47 AM
QUOTE (André @ Oct 17 2010, 04:01 AM)
Osama bin Laden narrowly eluded capture by an elite Special Forces unit led by Wile E. Coyote, according to an exclusive TV Guide story by investigative reporter Clark Kent.

Agent Coyote used an Acme jetpack to catch up to the speedy bin Laden on a rock-strewn dirt road in Afghanistan, but the mission was aborted when the relentless Coyote accidentally flattened himself with a 20-ton anvil meant to crush the elusive terrorist.

Pentagon sources confirm that Mr. Coyote is one of several animated agents who have volunteered to help fight for truth, justice and the American way.

Acting on sensitive intelligence developed by Beavis and Butt-head, U.S. ground forces led by Bugs Bunny and Speed Racer penetrated a suspected al Qaida compound with air support from Woody Woodpecker and Snoopy (aka the Red Baron). Popeye reportedly punched one terrorist in the face so hard that his neck stretched approximately 20 feet before his head snapped and wobbled back into place.

To help defuse tensions in the strife-torn Middle East, Defense Secretary Donald Rumsfeld reportedly is grooming a covert unit led by Scooby-Doo, Mr. Magoo and Winnie the Pooh.

"America's arsenal of superheroes is unmatched by any nation in the world," said Rumsfeld, noting that Superman, Wonder Woman and Fat Albert stand ready for deployment to trouble spots around the globe. Rumsfeld also announced the creation of a new Internet surveillance task force headed by Mighty Mouse.

Rumsfeld said the cartoon fighters will help make the war on terror more popular among the nation's children. However, he again deflected questions about alleged financial wrongdoing by the defense contractor, Acme.

http://www.humorgazette.com/wilecoyote.htm
Reminds me of something...
Something to do with Wile E. Coyote going to work in the morning together with his workmate Sam- the sheepdog...
Something to do with trying to steal sheep...or should that be 'sheople' ?
...Leaves me wondering whose 'Uncle' Sam might be...
Of course, that's a mute point. It would mean that Osama and Coyote would be...err... one and the same character...wouldn't it...?
Oh...I just remembered- he appeared under a pseudonym, didn't he: Ralph Wolf...
http://en.wikipedia.org/wiki/Wolf_and_Sheepdog