Posted by: BarryWilliamsmb Feb 12 2011, 06:10 AM
Ten seconds after the second tower was hit, this video shows another aircraft flying low and fast in the opposite direction that Flight 175 was traveling.

http://www.youtube.com/watch?v=9fYbYDPJx7Y





Posted by: paranoia Feb 12 2011, 06:32 AM
when i saw the thread title i thought you might mean this plane:

http://www.youtube.com/watch?v=6TtiNw_cS_0
or
http://www.youtube.com/watch?v=TFqt2pSEw7s


but what i see in your video (around the 12th second of the clip):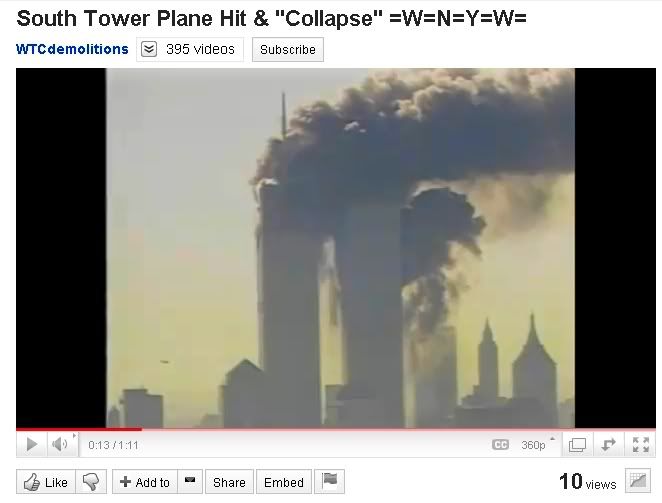 -looks (to me) to be a like a helicopter swooping left to right, probably to get a better view of whatever the fuk just happened... hard to say for sure, but given its size and speed, my guess is: helicopter.

Posted by: tumetuestumefaisdubien Feb 12 2011, 07:29 AM
here it looks like somebody was looking into the issue: http://www.youtube.com/watch?v=LxR0dShXFVU trying to figure out if it was the Yury Facktorovich. I'm not sure on this issue. He looks he is not on the radar even when far and high. So
Posted by: amazed! Feb 14 2011, 05:56 PM
Doesn't look like a helicopter to me. It is a lousy picture, but the rotor mast does not seem to be there.

Posted by: DoYouEverWonder Feb 14 2011, 06:45 PM
The flight path to LaGuardia takes that route. They use to fly right past the WTC and hang a left up the East River, head over Queens and into LGA.

Posted by: amazed! Feb 15 2011, 10:24 AM
Could be an older Sikorsky type like the S-61
Posted by: BarryWilliamsmb Feb 16 2011, 12:10 AM
Regardless whether this was a helicopter or a plane, one would think that any aircraft would have been on high alert for anything in the airspace.

I just can't understand why there was no warning on the second tower hit with all those friendlies flying around.