Semi-infamous government story defender/psuedo-skeptic/scientist Ryan Mackey has been proven incorrect in regards to this conclusion that he came to based off his own calculations:
QUOTE (Ryan Mackey)
"there is no case to be made that the FDR data is inconsistent with the impact of Flight 77"
But here is what he calculated for necessary g forces based off the NTSB reported altitude:
He basically created a hypothetical scenario that spreads the g forces out evenly from the top of the VDOT tower to the Pentagon wall and calculated that a
constant
4 g's
would be necessary for the plane to pull out of the dive and hit the building low and level with the ground as shown in the security video and required by all physical damage.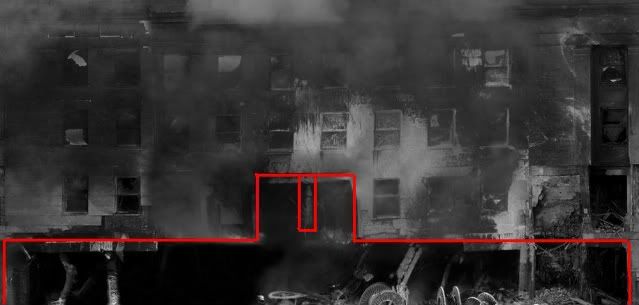 A complete breakdown and dissection of his incorrect conclusion is available in this
13 minute presentation
.
So although this may be theoretically "possible" for a 757 as a hypothetical scenario, contrary to Mackey's claims, this is completely irreconcilable with the NTSB data that records an average of 1.17 g's for that segment!
Although he is now aware of this "error", the response from Mackey so far is that the FDR data mysteriously stopped recording all data 6 seconds before alleged impact point but this has already been proven false by Pilots for 9/11 Truth in
this presentation
.
In fact g forces are recorded all the way up to the alleged impact time of 9:37:45, and as stated earlier they show an average of 1.17 g's for that segment which is clearly a HUGE difference from the necessary 4 g's calculated by Mackey.
So because 4 g's is nowhere to be found in the official data, Ryan Mackey's own calculations based on the NTSB reported altitude PROVE that the data is irreconcilable with an alleged impact as reported.
Since Mackey specifically stated the opposite, he has been proven to be in error.
Since he is aware of this and has been unable to refute it yet has failed to admit his error, he has now been proven deceptive.
Would a real scientist/patriot deceive to cover up fatal anomalies in the official story?
The only other response he has given is that the plane could have started the pull up earlier and much more gradually to account for even less than 4 g's.
However once again this contradicts the NTSB data for g forces. The alleged FDR does not show and has not recorded any positive load required to pull out of this dive "gradually" for the segment prior to the required descent into the building. In fact, it shows less than 1 G for that segment which represents a "pushing forward" motion on the yoke, as seen in the animation reconstruction provided by the NTSB, instead of a "pulling level" motion required.
This post is to give Ryan Mackey the opportunity to do what honest scientists do when they are proven incorrect.....and that is to admit their error.
Rob Balsamo from Pilots for 9/11 Truth had the professionalism to admit his error when it was pointed out that he was wrong in his initial article about this issue.
If Ryan Mackey refuses to do so, he will have been proven to be a liar.
It's that simple.