There was no
heavy white smoke trail
above the lawn on the right in still frame #2 (impact) as shown in the faked videos. A dense white smoke trail would have lingered quite a few seconds as it dissipated from the air. The white smoke trail should have lingered a long time in both videos. Smoke would not be traveling across the lawn at the speed of the aircraft and disappearing into the fireball, but would be left behind.
There was not one eyewitness reporting the trail of white smoke lingering above the lawn
. The videos are faked.
Does anybody among the OCT defenders see a trail of white smoke lingering in this faked parking lot video which the FBI released via FOIA lawsuit from its storeroom of 85+ confiscated 9-11 Pentagon area videos? Don't be shy; speak up if you see the white smoke trail slowly dissipating into the air over several seconds time. No?
Pentagon Parking Lot Security Camera Two
Here is how this
shill for the 9-11 perpetrators
presented to us in their ridiculous animation how the white trail of smoke should look. Can any of you fanatical defenders of the Official Flight 77 South Flight Path explain why there were no eyewitnesses to this fanciful white smoke trail? Anybody want to step up to the plate?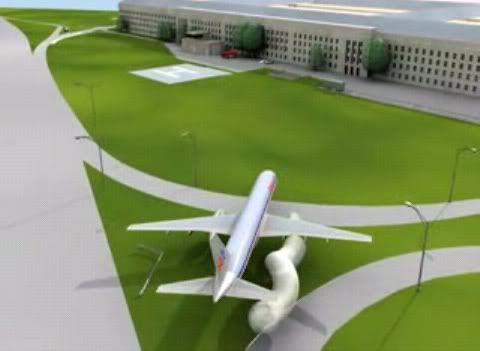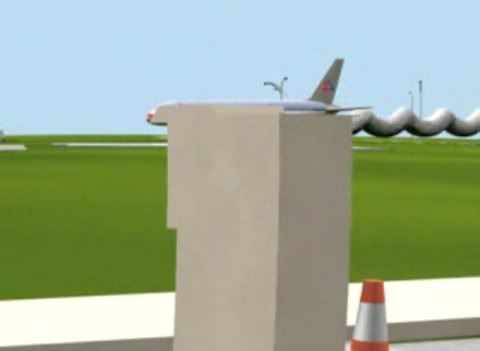 At least Integrated Consultants told the truth when they informed us in their hocus pocus animation that they were
continuing the 9-11 psyops mission against the American public
.