Can anybody 100% identify the piece of aircraft handed in to the Smithsonian Museum?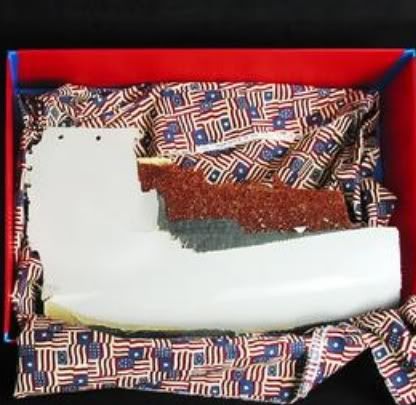 Detractors claim it was a wing tip, to back up the lightpole saga.
Yet in a recorded interview claims it is part of the tail.
http://www.pumpshitout.com/audio/pe_060509.mp3
QUOTE
HILL: ¨And you said you saw it... you saw it hit one of the light poles?¨

ELGAS: ¨ No, I didn't see it hit. I heard on the news that it hit a light pole. But that's how I ended up with a piece of the plane, is that it clipped the pole. The tail -- that was actually the tail that a turned into the Smithsonian. A piece of the tail.¨
Sorry I´m totally green on deciphering airplane specs though I did notice that the tail of the Boeing was a composite of ´poxies and graphite´. Are the wings ,particularly the tips, made up of the same material?
Can anybody tell by the shape and rivet holes whether it is from the wings or tail?
Is it even the correct colour? Unless the other side is blue.
I believe it could be a vital piece of physical evidence in that it could help pinpoint where the plane entered Route 27 and the fact that if it IS a tail fragment, how was it supposed to have hit the lightpoles?
I believe Penny Elgas described it as ´the tail´ because she was told so at the Smithsonian Museum yet on their site they describe it as a ´fragment´ of Flight 77.
Any info appreciated guys.
Cheers