To whom it may concern
The rational minds of scholars and engineers, organized professional pilots and AME's the world over know full well any and all government proof of "Islamist terrorists" having hijacked "commercial aircraft" amounts to nothing more than hearsay and speculation born of and perpetuated by the official consensus…the sum of their worth is directly proportional to our ever devolving human condition, collective morality and intellectual debasement.
I am a 52 year old Aircraft Maintenance Technician with twenty three years of experience and I have researched United Airlines flight 175 for awhile now. From my efforts I've discovered some damning information you might be interested in knowing - it pertains to falsified government evidence directly associated with the aircraft that purportedly crashed into WTC 2.
I approached Pilots For 9/11 Truth with this information for three reasons…the first of them being no-one to date whom I've shared this information with seems to comprehend the sheer magnitude of political betrayal and/or perpetual deceit set upon the unsuspecting public, by the same few FEMA/ASCE experts who are hired again and again to lie on behalf of the government when such an occurrence as 9/11 arises. My second reason for posting here is to get people openly debating the amoral actions of these FEMA/ASCE experts, who corrupted the WTC site investigation by falsifying the very evidence that goaded half the free world into two illegal wars of occupation and lastly then, I cannot afford to hire a photo forensics expert to conduct a comprehensive analysis of the evidence I have researched - to buy the "professional credibility status" required of it in order to legitimize a full congressional hearing into this conspiracy. If anyone reading this information is such an expert and wishes to weigh in on the photographic debate by all means give us your educated opinion of the matter at hand.
I know for certain the governments lackeys photographic material and supposed evidentiary proof of such a preposterous hypothesis had been manipulated on the roof of WTC 5, as photographed and later falsified but the question is who did the dirty deed, but no matter then because the entire government premise/case hangs from a flimsy thread of evidence that compelled people to believe highly inexperienced/unqualified foreign terrorists surgically flew commercial aircraft into the WTC Towers. By the time I'm done with exposing these lies no-one will believe this to be the case anymore; that anyone believes this one and only FEMA/ASCE photograph somehow constitutes authenticity well this flimsy government proof is about to be disemboweled!
So great is the importance of disproving this one and only FEMA/ASCE photograph of aircraft wreckage (supposedly that of N612UA) that it cannot be overemphasized, because this lone photograph was entered into evidence and sworn to under oath by Mr. Corley, Before the Subcommittee on Environment, Technology and Standards & Subcommittee on Research on May 1, 2002. Due to that fact alone he must be held accountable for giving false testimony under oath but more importantly then people must realize they've been lied to. In essence then this information is the Achilles Heel that will topple the Governments case for their Islamist Terrorist hypothesis, that is, if it's acted upon by someone who has the credentials to prove the FEMA/ASCE evidence fraudulent beyond reproach.
The person this falsified photograph consistently points back on is the man who exposed it; Mr. W. Gene Corley. Throughout the nine years since September 11, 2001 he has consistently obfuscated by telling half truths of it and he refuses to answer candidly the specific questions of mine regarding this/his photograph and the BPS team manipulation/fabrication thereof. The truth of it is this photograph had been altered by FEMA/ASCE officials using Photoshop not long after 9/11 and no later than May 1, 2002. Mr. Corley admittedly manipulated the wreckage that lead to this photograph being taken on the roof of WTC 5 in late October, 2001 – an admission of tampering with evidence no less which definitely qualifies him for peer review and public censor in the least.
To this day Mr. Corley reminds everyone of his expertise yet he never quite tells the full story of how and by what means his team conjured into existence this ground zero evidence of United Airlines flight 175 while his evidence tampering served well to mislead the world into believing his authoritative version of the events upon the WTC site immediately thereafter 9/11. For all intents and purposes then he effectively perjured himself in 2002 and he continues to this day to perpetuate that lie. In his words admittedly then he broke every law in the book while investigating said wreckage of UA175 and by continuing to justify his actions his professional ethics and modus operandi is not only reprehensible but subject to criminal investigation in my opinion. Just one case in point that spotlights this arrogated man is a February 3, 2005 interview he gave with James Meigs for a Popular Mechanics article entitled Debunking 9/11 Myths: Special Report.
In this article it is written…Corley and his team photographed aircraft debris on the roof of WTC 5, including a chunk of fuselage that clearly had passenger windows…"It's ... from the United Airlines plane that hit Tower 2," Corley states flatly...In reviewing crash footage taken by an ABC news crew, Corley was able to track the trajectory of the fragments he studied—including a section of the landing gear and part of an engine—as they tore through the South Tower, exited from the building's north side and fell from the sky." The key word here in this article is "fragments", due to the fact corroborating evidence proves not only had there been more than one fragment of fuselage "discovered" by Corley on the rooftop of WTC 5 so to the BPS team most certainly pulled together wreckage from various points on that rooftop in order to arrange these fragments in such a way as to ensure a specific outcome for what had surely already become a corrupted investigation/crime scene.
With that said "by piecing together bits of aircraft fuselage on WTC 5 he was able to determine that after UA175 struck WTC 2 a portion of the fuselage came to rest on the roof of WTC 5, right where the team discovered it"…in the least then how incredibly implausible and presumptuous it was of him to say so then!
The fact is the brazen irregularities in Mr. W. Gene Corley's testimony and this one and only FEMA/ASCE photograph (ever to be made public) denotes anything but one aircraft "fragment" from the right side-aft fuselage area of any Boeing 767-200ER airframe coming to rest right where he found it. I have researched the evidence to prove this fact and with Mr. Corley's words in mind I will show why his testimony and this fuselage wreckage is not what it appears to be, for the following reasons:
- First and notably then is the fact the fragments in this photograph were arranged by Mr. Corley to give inquiring minds the impression the image depicts absolute proof the wreckage therein is from the R/H Empennage area of (N612UA) and I know this to be the case because there are NO passenger window cut-outs Aft of the (A) in the registration marking of (N612UA) on the L/H side of the fuselage - Not on that once serviceable United Airlines Boeing 767-200ER airframe and not on any such airframe for that matter.
- With that in mind therein Mr. Corley's image one can see a darker blue splotch of color, most evident there on the extreme left of this fuselage fragment. Just right of the lower end of the staircase hand rail upright and just below the portion of fuselage that bears the apparent remnants of aircraft registration marking (N6….). If this image is depicting in its true likeness a genuine piece of fuselage from the R/H Aft Empennage area of that United Airlines Boeing 767-200ER airframe (N612UA) then there should be a passenger window cut-out visible directly below that (N6….) that is a remnant of the registration marking however, there is no passenger window cut-out evident there due to this splotch and that is the first dead giveaway this image is fraudulent. By itself the dark blue splotch of color is proof positive someone manipulated this image using Photoshop to have two fragments appear as one assembly but it gets far more damning...these fragments (as they are depicted) do not match the R/H Aft/Empennage area of what was N612UA. The larger of the two fragments in this FEMA/ASCE photograph may well be some fragment of a destroyed Boeing 767-200ER fuselage but it is not from that rear area of fuselage on N612UA. In fact it does not correspond to any Boeing 767-200ER airframe where the Fuselage meets the Empennage.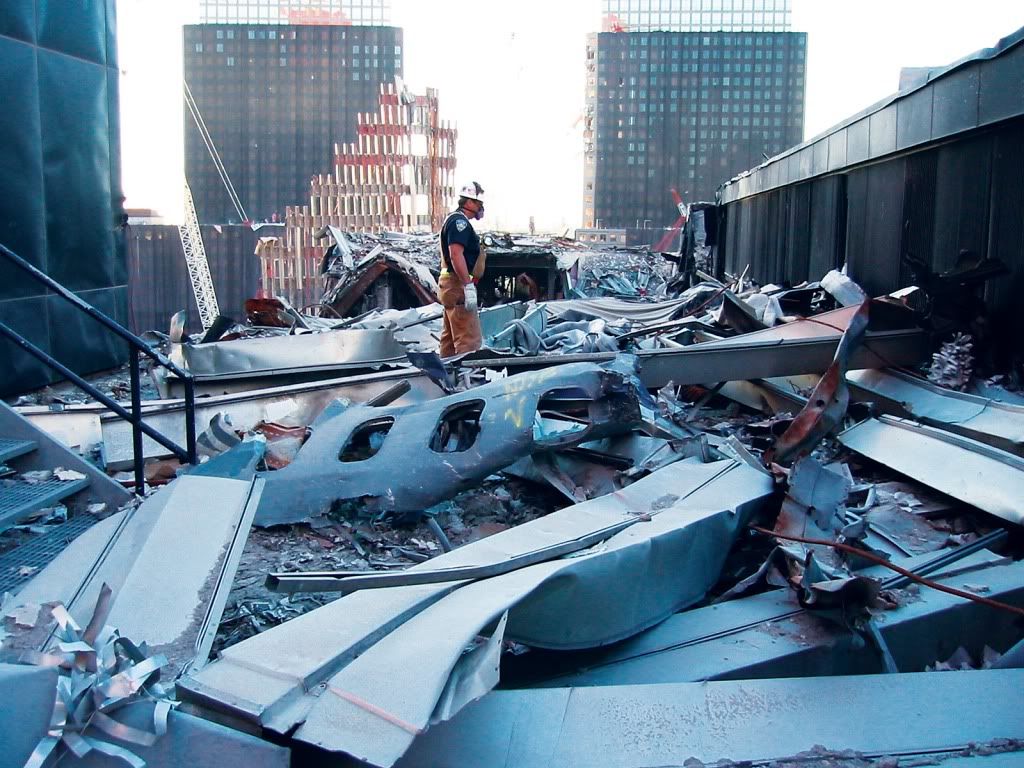 As well and aside from this blatantly poor Photoshop color rendering one will notice when looking for it an obvious break in the edge line along the left side of the half missing/eviscerated passenger window cut-out. This break in the continuity of that line is further evidence the underlying fragment of fuselage with the partial registration marking on it is a separate piece of wreckage. As well in that area is a noticeable difference in color change, shape and contour of the two fragments of metal.
- If indeed this image authentically depicts the R/H Aft Empennage/Fuselage area of United Airlines Boeing flight 175 (N612UA) then there shouldn't be a solid piece of fuselage skin directly below the registration marking (N6….) where the splotch is. A fact that is perfectly obvious when looking at any pre 9/11 photograph of the aircraft (N612UA). So it is a very important distinction I've made here because on every Boeing 767-200ER airframe there is a very obvious butt joint seam running top to bottom between the second to last and the third to last passenger window cut-outs on both sides of the fuselage. That seam is typical of every Boeing 767-200ER airframe and there is no other vertical butt joint seam for approximately 12 feet to the rear of it. For those who do not know it a butt joint seam is a very obvious conjoining of two pieces of aluminum sheet metal (skin) on many types of aircraft fuselage surfaces, where two pieces are abutted together edge to edge and riveted in place to the underlying frames and stringers that way.
Typically then the edge separation of the two skins that make up a vertical butt joint seam is approximately one quarter of an inch, allowing for expansion/contraction and flexing of the two surface structures. So to the skin on either side of such a vertical butt joint seam has at least a double row of heavier rivets running its entire length, for added strength and security. That being the case the fuselage "skin" butt joint seam should be quite visible on this fragment running top to bottom to bisect the two aforementioned passenger window cut-outs in Mr. Corley's photograph. But there is no such joint visible anywhere on this fragment. So before I continue explaining why that is and with his testimony in mind consider the possibility this dark blue Photoshop splotch was part of the intended ruse to mislead any unsuspecting commissioner into believing the image portrays something that never was...
- Another example of tampering in this image appears at the top of the large piece of fuselage in the vicinity of the half missing (second to last) passenger window cut-out. There you can see a small portion of white in this image. This photograph would have you believe this remnant of white is what's left of the lower leg/tail of the (2) in the aircraft registration marking (N612UA). As I've argued previously then this large piece of fuselage does not show the tell-tale butt joint seam that would normally intersect the (2) and the (U) in (N612UA) therefore this fragment of fuselage is not from the Fuselage/Empennage area of any Boeing 767-200ER airframe and certainly not UA175, thus the fragment should not have on it the residuals of any registration marking what so ever! Which means this white mark had been added into the photograph using Photoshop and for the sole purpose of "making all the pieces fit the puzzle" in order to convince people it is wreckage from UA175. Consequently then it is my opinion the registration marking (N6....) has also been Photoshop enhanced for reasons I won't go into here.
(Butt-join seam visible)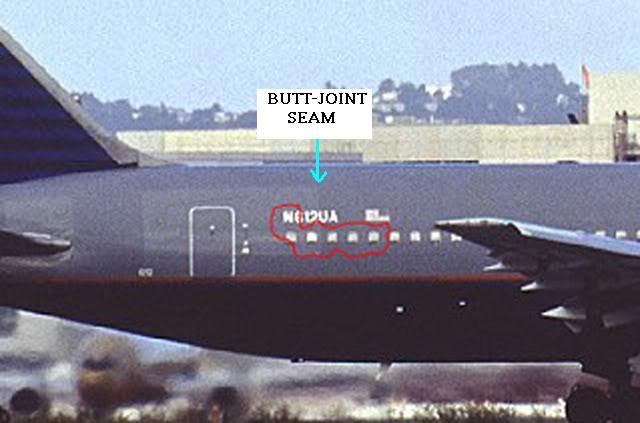 (No seam visible)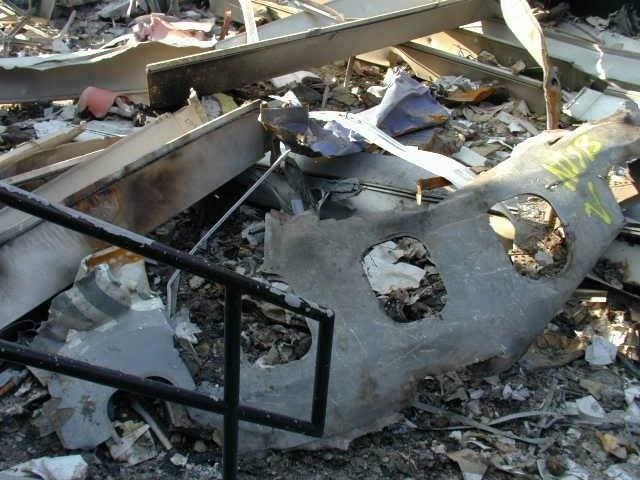 - One last point to make about this photograph is the overall consistency in tonality of blue and the rounded/fairly pristine curvature of this larger fragment of fuselage. This bluish tone is the same throughout, both on the inside of the passenger window cut-outs (frames) as well as on the entirety of the outer surface of the fuselage skin in this image. But this should not be the case either because the general practice in aviation is (whether it be upon completion of a newly built airframe or well after the fact) to primer coat the airframe/fuselage with Zinc Chromate primer paint while the passenger window panes are removed and later on the airframe/fuselage is finish coated with its chosen color while the passenger window panes are installed although papered over to protect them from paint overspray.
Zinc Chromate Primer paint is often olive green in color. This olive green color will fade over time but it remains an obvious green regardless. In other words something is very wrong with this picture because this general bluish tonality inside the window openings is inconsistent with aircraft painting procedures in general. It stands to reason then at some point in the FEMA/ASCE WTC site investigation not only had this photograph been Photoshop washed in a blue color tone but the shape and curvature of the fragment had also been enhanced using Photoshop to give the aircraft wreckage the feel of uniformity and consistency which intimates the fragments in the image are one piece - they are not!
As a matter of fact the entire photograph has been washed in this blue color tone which gives everything in the photographs field of vision that artificial bluish tint - compared with the lighting and color tone of a second photograph which appears more natural. That second photograph has never been attributed to Mr. Corley and it has never been entered into evidence, for obvious reasons, but due to Mr. Corley's admission (he was able to track the trajectory of the fragments he studied) its authenticity and authorship needn't be questioned then because quite clearly that image denotes the real setting the day both photographs were taken. Last but not least then, not only was the color of paint on the upper portion of the airframe on United Airlines (N612UA) grey these two fragments differ in tones of blue in this image while neither fragment appears grey at all, as with the entire field of exposure in the FEMA/ASCE photograph.
The FEMA/ASCE photograph in question can be found at the FEMA Photo Library as (ID 12390) but this link (http://www.photolibrary.fema.gov/photolibrary/photo_details.do?id=12390) will take you straight to it.
As for the second image this link (http://govtloyalistsite.org/showthread.php?t=190154) shows both fragments I've mentioned. As for anyone who knows what to look for that second image speaks volumes about the Photoshop manipulation to the FEMA/ASCE photograph in question. I will be happy to tell you why I know the smaller fragment in the second image is not from that part of a Boeing 767-200ER airframe, should you ask, but first I encourage you to consult a photographic forensics expert on what I've given you of the first image so that we do not get into any disagreement, because I am not here to debate what I already know to be true.
In closing I must say it astounds me no-one else has ever bothered to challenge the authenticity and/or veracity of this lone FEMA/ASCE photograph, the evidence in general and Mr. Corley's credibility due to these unprecedented facts and his seeming transgression away from any chain of custody he so often admonishes others for not adhering to!
Thank you everyone for taking the time to consider these facts and please spread the 9/11 word.