This is old but deserves to be here...
SOURCE: Terry McDermott's book, Perfect Soldiers. "These were amongst a bunch of investigative files he obtained from the FBI while researching his book."
http://www.911myths.com/index.php/The_Passengers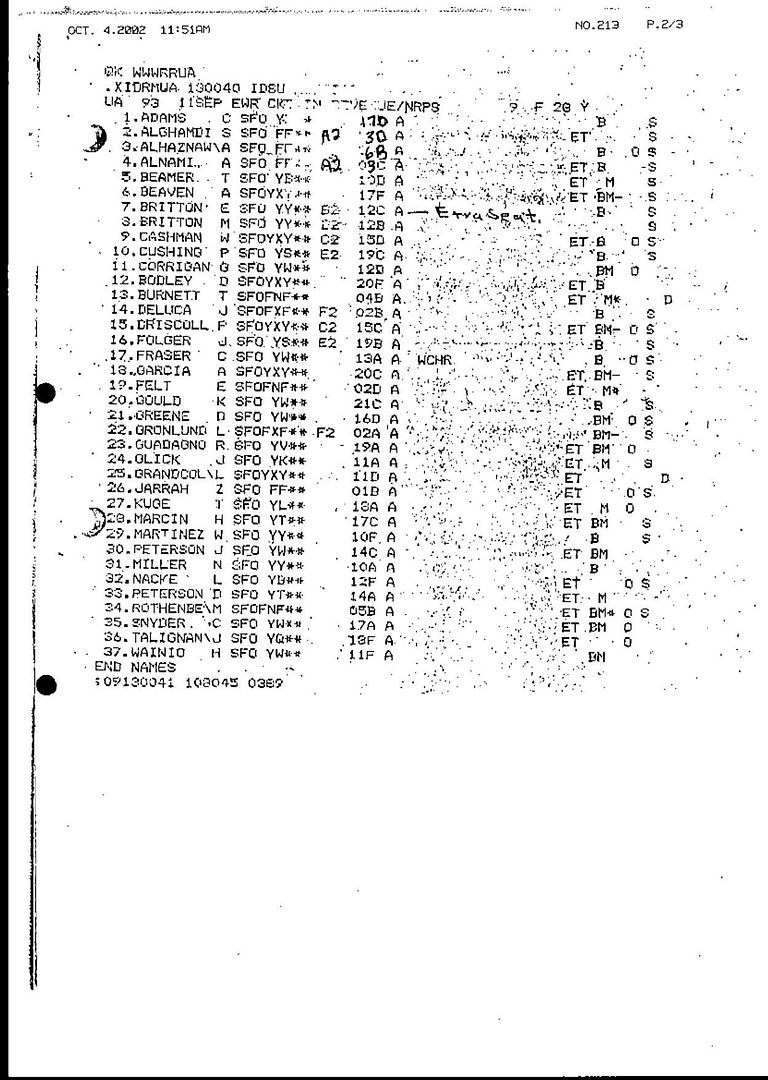 His name is missing and some suggest it is because he changed his flight...
QUOTE
Mark Bingham, 31,
was also supposed to have flown to San Francisco last Monday (9/10)
. But he hadn't recovered sufficiently from the 30th birthday celebration of his roommate in Manhattan, so he decided to wait until Tuesday morning.
He overslept a 6 a.m. alarm and just made his flight when his friend Matt Hall of Denville, N.J., rushed through traffic to get him there.
Hall remembered the 6-foot-5 Bingham running to the terminal. The former rugby star at the University of California at Berkeley was lugging his old team canvas bag, emblazoned with his name and number. Flying on a companion pass from his aunt, a flight attendant, Bingham was the last to board.
Driving to work, Hall got a call from Bingham to say he had made the flight and was sitting
in seat 4D in first class
.
http://sfgate.com/cgi-bin/article.cgi?f=/c.../17/MN40630.DTL
Changing flights doesn't mean your name is left off, does it? Cause Tom Burnett changed his flight also...
QUOTE
Deena Burnett wasn't expecting to hear from him until later. Tom had spent the weekend with family in Bloomington, Minn., and had gone on to Newark for business that was expected to take him through Tuesday.

But Monday night, Tom e-mailed his boss, Keith Grossman, relaying his plans to take the earlier flight. He may have wanted to surprise his wife; in any event, he hadn't called ahead.