For a long time I've made the argument a thousand times over (especially with Mark Roberts) that UA93 couldn't have crashed in Shanksville, PA because everything regarding the crater and the explanations which caused it have been total fabrications.
The fdr data released claims the plane hit at a 39degree angle while all images are consistent with a 90degree angle.
All witness statements were that it was coming "straight down" which is totally consistent with the crater itself.
CNN Eyewitness Accounts
I was going to post Susan McIlwain's interview here but it has been wiped from the net. "UA93" flew directly over her vehicle before "crashing". She states with absolute certainty that it was not a 757 commercial airliner and that it was much smaller. When it appears again I will edit this and add it.
The most horrifying aspect of this particular crash scene is how little debris is how little debris is visible."There's nothing there expect a hole in the ground." "The hole is 20-15 feet long and 10 feet wide" -
Fox News
Jeff's Call To The FBI
which they say "The Final Word" is that the following image was taken on 9/11.
The image which causes all the controversy:
The reason this image is so controversial is as you can see there is still debris scattered about the ground leading all the way back to the garage which confirms this pic was taken sometime during the afternoon of the 11th.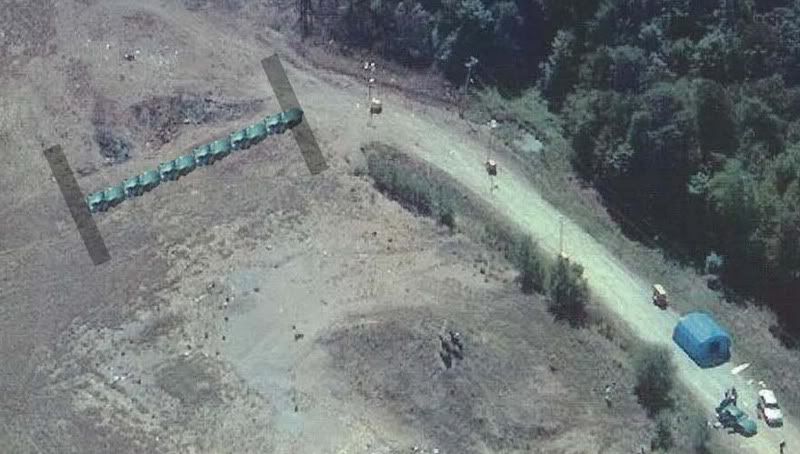 The general consensus is that the car used to measure this is either a firebird or camaro or similar sports car. Depending on year and model its length can be somewhere between 10-15' which means this crater is somewhere between 60-80' or 45-65' too small to be consistent with the size of a 757 slamming into the ground at a 90degree angle.
Capt. Frank Monaco:
"The gouge was 8 to 10 feet deep and 15 to 20 feet long, said Capt. Frank Monaco of the Pennsylvania State Police. "
(AP, 9/12/01 )
http://www.courier-journal.com/localnews/2...91201s69779.htm
FBI Special Agent Bill Crowley said the recorder was found at about 4:20 p.m. in the 8-foot-deep crater caused by the crash.
WPXI11 Pittsburgh
The plane left a crater 20 feet wide and 15 feet deep.
(Plain Dealer, 9/12/01)
Reporters said the crater was about 40 feet wide and more than 8 feet deep.
(Los Angeles Times, 9/12/01)
The impact of the crash left a crater estimated by authorities to be about 10 feet deep and 20 feet wide. [/b]
(Cox, 9/12/01)
[I]"Pittsburgh's WTAE-TV reporter Michelle Wright toured the crash scene and said that a crater of about 30 to 40 feet long, 15 to 20 feet wide and 18 feet deep was created by the crash."
http://www.newsnet5.com/news/956371/detail.html
The crash impact left a crater estimated to be 10-feet deep and 20-feet wide.
WPXI Pittsburgh
And while the above article mentioned "The site was still smoldering Wednesday afternoon and investigators said "hot spots" caused by jet fuel had flared up in the early morning hours.
EPA Officials went on to state there was absolutely
no jet fuel contamination of the soil and water in the area
.