moved / Zap
Flight UA 175: An Incredible Journey
In August 2006 the NTSB, in response to a NSA FOI request, finally released details of the 9/11 flights.
NTSB Releases 9/11 Flight Information
When going over the report in reference to another thread it suddenly dawned on me how incredible a journey the flight of United Airlines 175 actually was.
Report Here
The report includes a flight profile, a ground track, A pressure altitude graph derived from radar mode C returns, and a transcript of radio communications.
Below is a widely published graphic of the flight path:
< image deleted >
The following is a "blow by blow" of the alleged plane's astonishing flight, taken from the report:
United Airlines Flight 175 departed Boston Logan at 8:14AM
It reached 31,000 feet at 8:33AM
The final radio transmission was at 8:42AM
Beacon Codes were changed twice within one minute at 8:47AM
UA 175 started into a climbing turn to the South East at 8:51AM
It reached 33,500 feet at 8:53AM
UA 175 began its descent while continuing its turn
It turned towards North East while its descent continued
The "plane" was now headed towards WTC2 in a direction of North east (45 degrees)
at what is termed point (G)
Its altitude at this point was 25,000 feet at 8:58 AM
It was at 24,000 feet at 8:59AM
18,500 feet at 9:00AM
15,000 feet at 9:01AM
9,000 feet at 9:02AM
The "plane" is presumed to have struck its target at a height under 1000 feet at 9:02 40 AM. Mission Accomplished.
(END FLIGHT SUMMARY)
Now point (G) where UA 175 starts heading straight for WTC2 is just east of Trenton, NJ. The targeted tower is approximately sixty miles away at this point.
This is incredible target acquisitioning, but just as incredible is the fact that according to the NTSB report, which was founded on three sets of radar data ( FAA, JFK Approach and USAF) the alleged plane covered the sixty mile distance in approximately 4 minutes and 40 seconds. That works out to an average of 774 mph; this is above Mach 1! (The altitude ascent and descent are worthy of interest too, I might add)
Now a Boeing 767's cruising speed is Mach 0.8 at 35,000 feet which is 530 mph. Its Maximum cruising speed is Mach 0.86 which is 568 mph.
An average speed of 774 mph on a descent from 25,000 feet to below 1,000 feet, covering a distance of sixty miles directly towards target in just over 4.5 minutes, represents a totally impossible achievement, on multiple levels, for a mid-size wide-body twinjet airliner.
This surely is not a Boeing 767. It can't even be a Tomahawk Penetrator as these are subsonic (though a supersonic variant is in the works). Now I know the following option is in the "not quite out of the showroom" category but the above flight profile (and the impressively explosive finale at flight's end) does fit the new breed of Tactical Penetrator: the RATTLRS.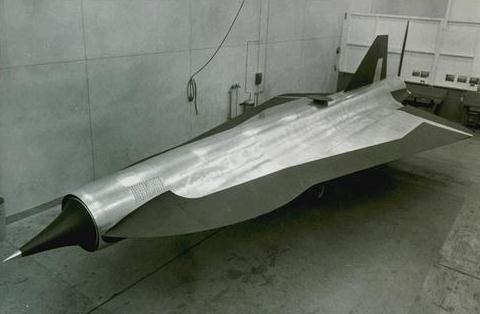 Revolutionary Approach To Time-critical Long Range Strike (RATTLRS) represents a new supersonic cruise missile concept, enabling warfighters to rapidly launch precision attacks against time-critical targets, from ranges of hundreds of kilometers. When planning RATTLERS missions, users will be able to adjust fuel consumption, speed and range to address a particular mission objective. Unlike current cruise missiles, depending on a lengthy and complex mission planning process, RATTLRS will feature much faster mission preparation, taking only few minutes. Missiles will be able to strike a target after flying a distance of hundreds of kilometers, within 30 minutes from target detection. One of the main advantages of RATTLRS is its ability to cruise at variable speeds, including supersonic speed.
Update on RATTLRS
(END EXCERPT)
For all those people seeking a candidate for a projectile that looks like a plane but stings like a penetrator, this might fit the bill. The Military Establishment may just be beginning to unveil RATTLRS now but who's to say they weren't tempted to road test it a couple of times back in 2001?
As a point of interest, m-v-b has another thread going on where he is in the early stages of calculating speeds from the 2nd Hit videos. Thus far he has been turning up astonishingly high speeds including one in the Mach 1 range.
Flight 175 Cruise Speed - Could It be?
I am sure that the NTSB will be pleased to see independent corroboration of their mind-blowing report.
Factfinder General September 21 2007