The crew of Gopher 06 took off from Andrews Air Force Base, travelling NORTH AND WEST,
which took him by the Washington Mall
.
He was on the
Southside of the Mall and had just passed it going WESTBOUND
when he first saw the plane up and to the left(or in front of him) , about 4 miles out, at 10' Oclock/11 O'Clock/12 O'clock in a 30-45 degree bank descending to his altitude. He said it was like "coming up to an intersection" . While O'brien is traveling WESTBOUND, the plane's traveling EASTBOUND toward him, turning NORTHBOUND and back to an EASTBOUND heading while in the 30-45 degree bank. The plane essentially crosses in front of him, flies around/below them heading towards the Potomac/mall/whitehouse or Potomac/Pentagon, then down river near Reagan National before finally turning out of it's bank and to it's final heading toward the Pentagon.
As for when the C-130 turns to follow it, it is after the plane passes them. They have 3 radio calls before turning around to follow it. The C-130 turns from WESTBOUND to EASTBOUND to follow it according to O'brien, essentially doing a U-Turn. By the time he turns around, he see's it Southeast of the white house AND he has a hard time keeping the plane in sight (presumably it was coming out of the spiraled bank turn MILES AWAY near Reagan???). O'brien see's an explosion on the ground and "did not know what or where it had impacted" implying he is at a high altitude and far away.
Then, according to Scott Cook, a witness I believe to be genuine, on the other side of the river, he see's the C-130 about 60 seconds after the explosion approaching the Pentagon and then apparently see's it start "a steep decent towards the Pentagon. [...] descending at a much steeper angle than most aircraft... the plane reached the Pentagon at a low altitude and made a sharp left turn, passing just north of the plume, and headed straight for the White House. [...]
But then right over the tidal basin, at an altitude of less than 1000 feet, it made another sharp left turn to the north and climbed rapidly.
"
Here is an image I have created using his published account and his e-mail correspondence answers to establish what we believe he is telling us.: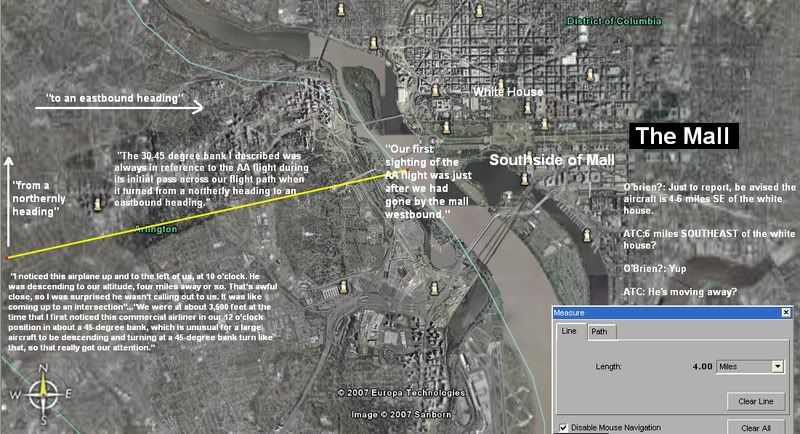 How we arrived at this? From his earlier accounts:
QUOTE
"
When we took off,
we headed north and west and had a beautiful view of the Mall
," he said. "
I noticed this airplane up and to the left of us, at 10 o'clock. He was descending to our altitude, four miles away or so.
That's awful close, so I was surprised he wasn't calling out to us. It was
like coming up to an intersection
"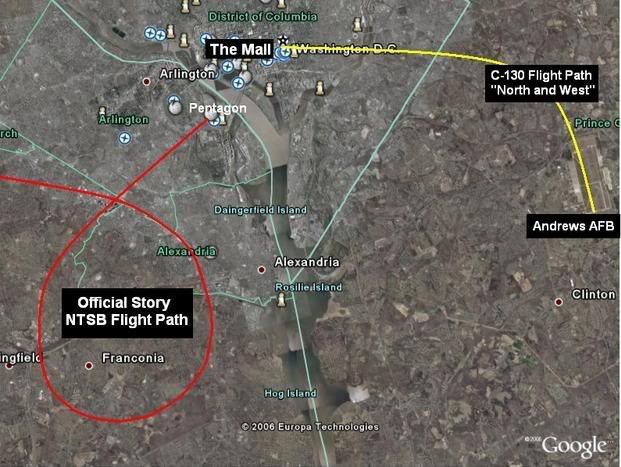 In another interview,
QUOTE
"We were at about 3,500 feet at the time that I first noticed this commercial airliner in our [B]12 o'clock position in about a 45-degree bank[/u][/b], which is unusual for a large aircraft to be descending and turning at a 45-degree bank turn like that, so that really got our attention."
Although the BBC documentary, 9/11 Conspiracy Files, is completely misleading and confusing regarding his interaction with the plane...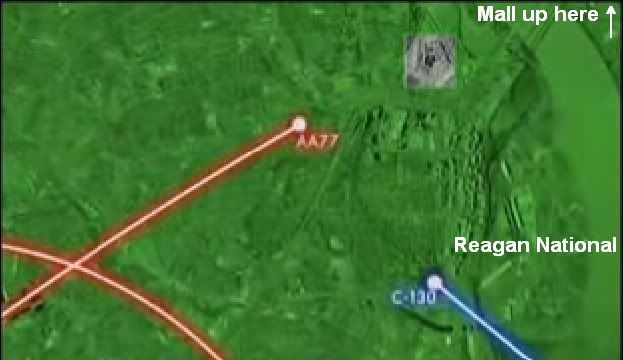 ...his account still seems to correspond with what he has ultimately been saying-
he says he took off from Andrews AFB headed north and west to an altitude of 3000 ft to the "south side of the Mall".
Then it cuts to:
QUOTE
Clearly he has the plane entering from the left side of his windscreen ( If O'brien is moving WESTBOUND just past the mall then the plane coming from his left would be going NORTHBOUND like he said). Also, the event is clearly taking place around or near, or just past the mall.
If that wasn't clear enough.
He CONFIRMED IT for us all in an e-mail exchange
:
QUOTE
Our first sighting of the AA flight was just after we had gone by the mall westbound.

[...]

The 30-45 degree bank I described was always in reference to the AA flight during its initial pass across our flight path when it turned from a northerly heading to an eastbound heading.
As the plane passes them headed EAST while the C-130 is headed WEST, it continues to bank past them and descend below them, on their right side...
QUOTE
Maj. Robert Schumacher: "I remember looking out my right side windows, kind of down on it,
As the plane passes them in it's spiral/descent turn, it is headed from north to east, to southeast, to southwest...the C-130 continues on WEST without turning around until 3 radio calls later.
Lt. Col. O'Brien explains in the e-mail:
QUOTE
There were 3 radio calls between us and Washington departure before we turned east bound to follow the AA flight.
Then before or after he turns around, he presumably see's the plane now southeast of the white house, as this is how he or it is reported:
QUOTE
From BBC Documentary:
O'Brien?:
Just to report, be advised the aircraft is 4-6 miles SE (southeast) of the White House.
ATC:
6 miles SOUTHEAST of the White House?
O'Brien?:
Yup
ATC:
He's moving away?
Oddly this is almost EXACTLY what the National Geographic radar tracking shows: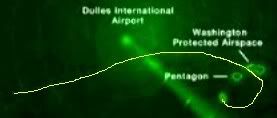 Fits with what I originally thought he was saying...
He tells us he turned back to the east to follow it. In reality it was an ATTEMPT to follow it. He never came close enough, other than the initial pass across his windscreen, coming from left to right at 10, 11, and 12 O'Clock, in a 45 degree bank. So he turned from WEST to EAST, basically doing a U-Turn. He says he has a hard time keeping it in sight, this would make sense since it was 3 radio calls later that he FINALLY turned around. He also states that he
"DID NOT KNOW WHAT OR WHERE IT HAD IMPACTED"
....
QUOTE
I distinctly remember having a difficult time keeping the AA flight in sight after we turned back to the east to follow it per a request from Wash. Departure Control. When I saw the initial explosion I was not able to see exactly where or what it had impacted, but remember trying to approximate a position to give to ATC. It was then that I was able to see the sun reflecting off the Potomac and the runway at Wash. Nat'l and thought to myself that the AA flight must have had some sort of IFE and was trying to make it back to National Airport. It was a few more seconds on our eastbound heading before I saw that the aircraft had impacted the west side of the Pentagon.
Clearly it was headed east, turned to the northernly heading as it made it's bank/turn east again-turning then to the southern heading. It was north of the Pentagon (clearly since the C-130 was next to the mall and had just past it when he first noticed the plane), over/near the Mall/DC/The Monument/The White House. All of this is near Rosslyn and the USA Today building, which Norman Mineta stated FAA Deputy Director Monte Belger told him the radar track showed it near- Rosslyn/USA Today and coming DRA (Down River Approach) . THIS WOULD SUPPORT O'BRIEN'S DESCRIPTION OF WHAT HAPPENED.
QUOTE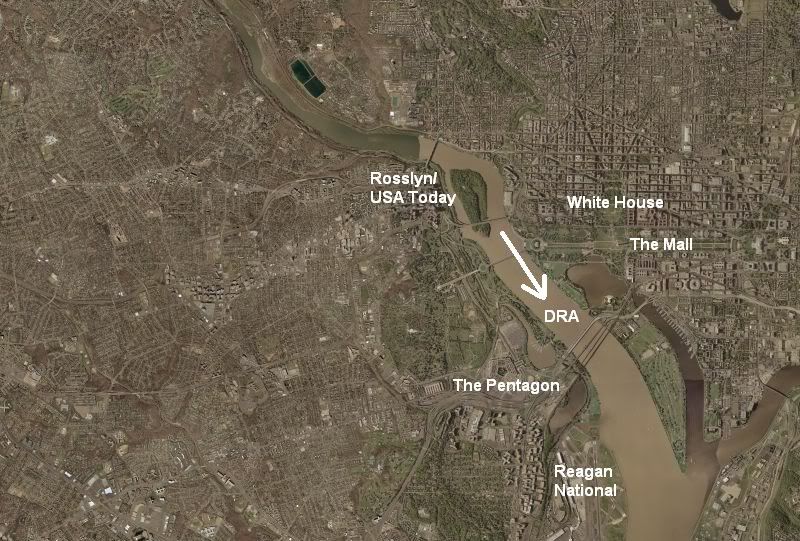 MINETA: So then someone came in, the same person came in and said, "Mr. Vice President, it -- the plane's 30-miles out." So I said, "Monte, can you see it, and where is it in relationship to the ground?"
He said, "Well, that's difficult to really determine. I would guess it's somewhere between
Great Falls and National Airport, coming what they call the DRA, the down river approach
."
...so I said, "Monte, where is it?" and he said, "Well, I'm not really sure but I'd be guessing somewhere maybe
between the USA Today building and, and National Airport.
"
[...]
MINETA: Well, the question was where is it coming. And so as I was asking Monte, it was
following pretty much the DRA, the down river approach, and it had not crossed over towards the White House or towards the Capitol. It was staying on its line towards what would normally be the traffic pattern into National Airport
.
And in fact, later on, in looking at the radar track,
the plane had actually over-passed the Pentagon
, then
turned around and then came back into it, and it never took a wide sweep to cross over to the east side of the White House
.
[...]
MINETA: Oh, absolutely, it's something like that, but at least at the time the track of the radar was
following what would be considered the down-river approach and it never came over to cross the east side of the Potomac River and it just followed the river all the way in.
http://www.msnbc.com/modules/91102/intervi...ineta.asp?cp1=1
EDIT: Thanks to Rob Balsamo for his original initiative with O'Brien and confirming these details.